Coastal Wildlife &
Pest Control Services
We're a family-owned wildlife and pest control company
based in Jacksonville, FL.
Wildlife & Pest Control Services
On a daily basis we safely and effectively clear properties of wildlife and pest issues. Our methods are professional, safe and most of all, effective.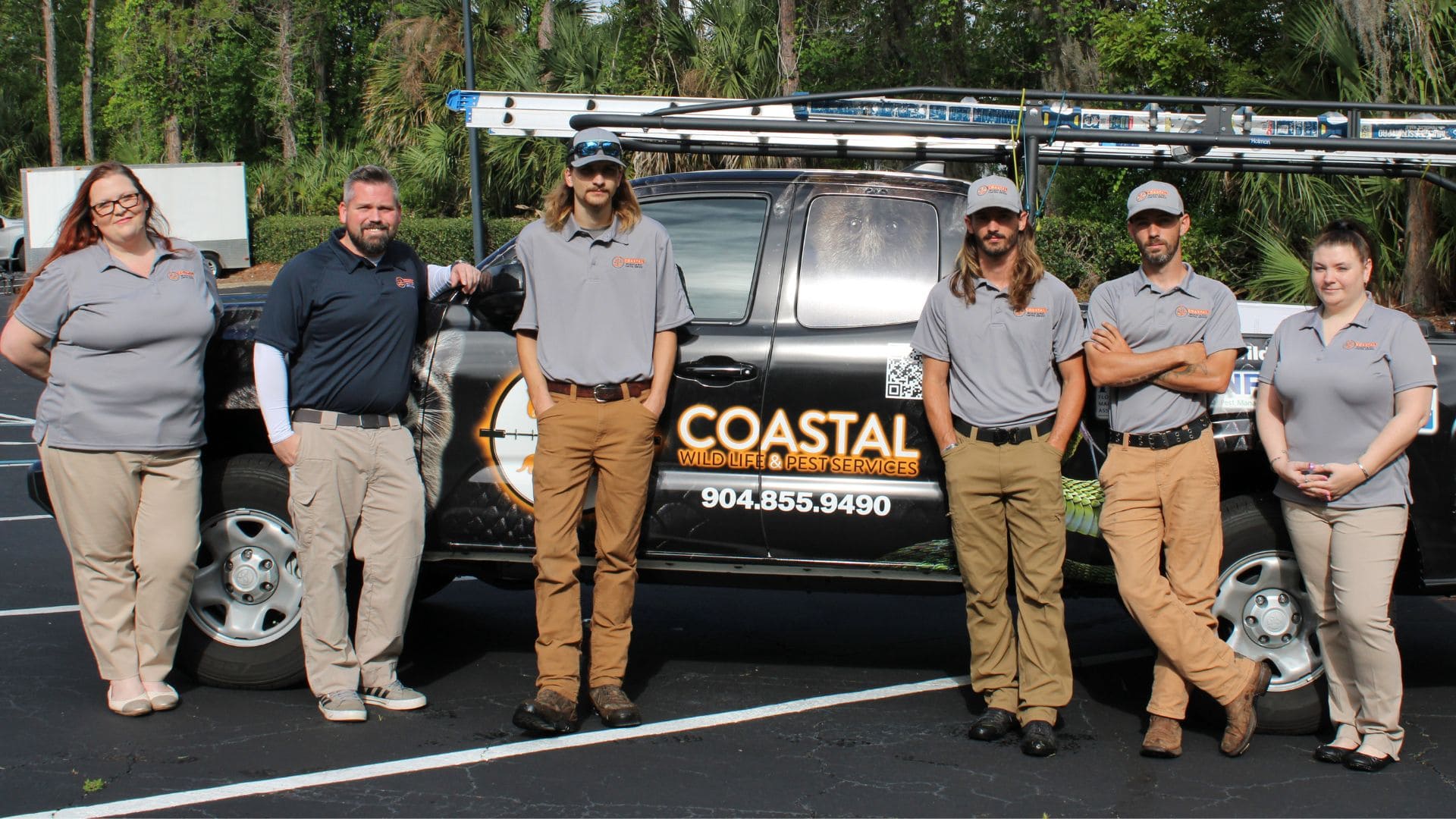 We are committed to being the most well trained professionals in this industry so our customers can be confident in our ability to solve their pest and wildlife problems.
We vowed in the beginning that we would offer a quality of work that is not matched by anyone. It is our commitment that the work we perform will be above and beyond expectations. 
We believe in the quality of work we perform. All of our services come with a guarantee so you can know when you trust us, your pest issue will be resolved.
We offer poison free wildlife services so you will never have to worry about your loved ones, pets, or other wildlife.
In addition to tried and true methods, we use the latest technology to ensure we are providing the best, and most complete service possible.
You can always be confident that our team at Coastal Wildlife Services are the most trained, knowledgeable professionals in the industry. When it comes to controlling pests and wildlife in our homes and around our properties, the equipment, techniques and strategies are constantly evolving. We are certified by the National Wildlife Control Operators Association, the National Pest Management Association, the Florida Pest Management Association as well as being accredited by the Better Business Bureau. These organizations give our clients the confidence they need when deciding who to trust with their wildlife and pest control issues. We are also ranked as a top three wildlife removal company in the Jacksonville, Florida area for 2023!
Complete Protection Pest Control
We believe in protecting our client's homes and properties from not just insects, but all pests! Our team is cross-trained in both pest and wildlife control so you receive the highest level of protection to keep your family, pets, and property safe from these nuisances. Whether you have an ant problem on your patio or a snake in your garage, don't worry! We have you covered! Our team responds swiftly to resolve all of your pest issues so you can return to your normal routine of life with minimal interruptions!
Sanitation And Restoration
The final step to performing a complete and thorough wildlife control project is the clean-up. We offer sanitation services to help eliminate the toxic waste and debris left behind by these animals when they invade our space. Droppings and urine left behind are toxic to humans and can introduce many different diseases into your home or business. Our sanitation process is complete, thorough, and safe when the project is completed.
Nuisance Wildlife Removal
Whether you are facing a colony of rats, a family of squirrels, a pack of raccoons, or just a single armadillo tearing through your yard at night, Coastal Wildlife Services can quickly locate and remove these animals from your property, home, or business in a safe and humane manner to keep you, your family and your employees safe.
Professional Exclusion Services
Once you have identified, located, and begun the removal process, you are now faced with the sometimes daunting task of preventing these animals from returning. Coastal Wildlife & Pest Services will identify all entry points and professionally seal these areas to keep these animals and any future animals out for good.